Smart Parking Ltd. ANPR System
A Step-by-Step Guide
How long are you shopping?
4 hours or less
You can park in Car Park A, B, C Level 1, C Level 2 and 3 (Long Stay Car Park) for up to four hours FREE of charge.
A 30 minutes "No Return" policy is applicable. This basically means that if you park on site, leave and return within a 30 minute period, the ANPR clock is still ticking, adding to your total number of parked minutes.
Your total number of parked minutes in any day must not exceed 240 minutes (4 hours).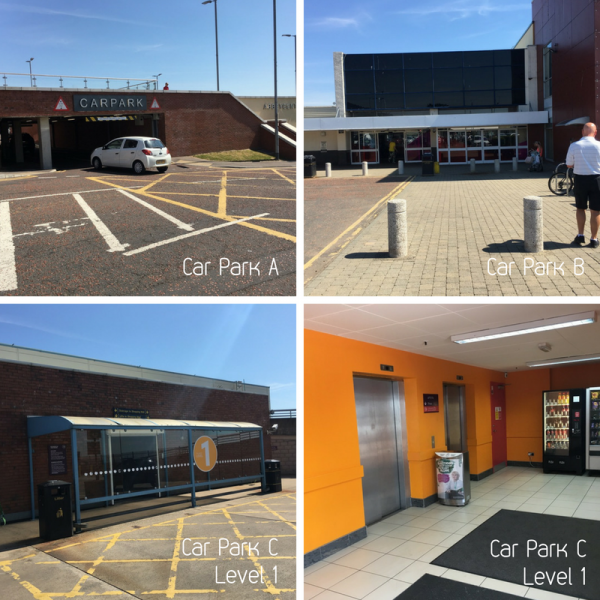 More than 4 hours
You must park in Car Park C Level 2 and 3 – the Long Stay Car Park.
Car Park C Level 2 is the undercover Car Park. It has a green coloured foyer with both lift and stair access to the mall.
Car Park C Level 3 is the roof top Car Park. It has a pink coloured foyer with both lift and stair access to the mall.
Dedicated long stay spaces include disabled and parent and child parking bays.
The 4+ hours parking tariff is £1.50 per day. The parking tariff covers you until 23.39 each day.
You can pay upon entry or before leaving.
Once paid, you can come and go as you please from Car Park C Level 2 and 3 until 23.59 of the day you parked.
Parking payment machines are located at the entrance to the mall in Car Park C Level 2 and 3.
Please note that exact change is required. The pay stations will not issue change and do not accept card payments.
Please take note of your vehicle registration number as this must be entered carefully upon payment.
You do not need to display your ticket within your vehicle, however please retain it for reference.
There is a cashless option available to pay for your long stay parking using the Ring Go app. Simply register, download the Ring Go app and pay as you park. Please quote this location code 21450.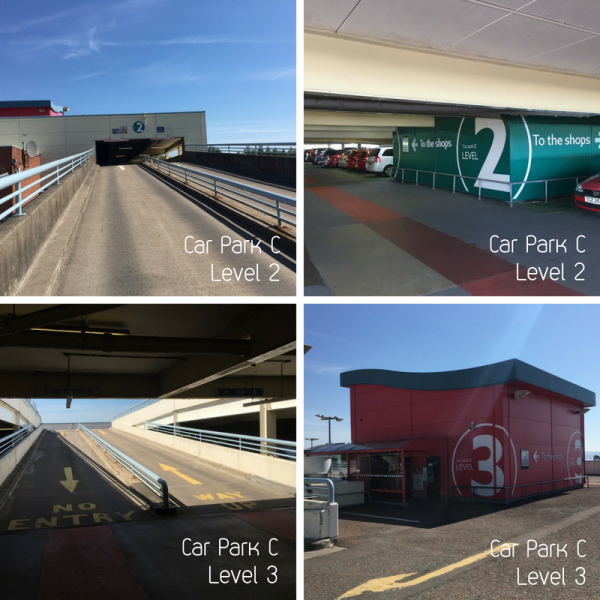 General Points to Note
The duration of your stay is calculated by the ANPR cameras from the point of entry, to the point of exit.
Please park within bays / in designated areas throughout all car parks.
Long Stay Parking regulations apply 24 hours per day, Monday – Sunday.
Disabled concessions do not apply.
Failure to comply with the Terms and Conditions may result in a parking charge of £100. The parking charge notice will be reduced to £60 if paid within 14 days of date of issue of the notice.
Parking Charge Notices issued by Smart Parking are legally enforceable.
Smart Parking Ltd. may request the registered keeper details from the DVLA for any vehicle parked in breach of the advertised Terms and Conditions for the purpose of serving a Parking Charge Notice generated from the ANPR evidence. (Please see full Terms and Conditions signage.)
Smart Parking Ltd. helpline – 0845 230 3081.
You can also contact Smart Parking Ltd. by emailing appeals@smartparking.com
Thank you for your cooperation and understanding.